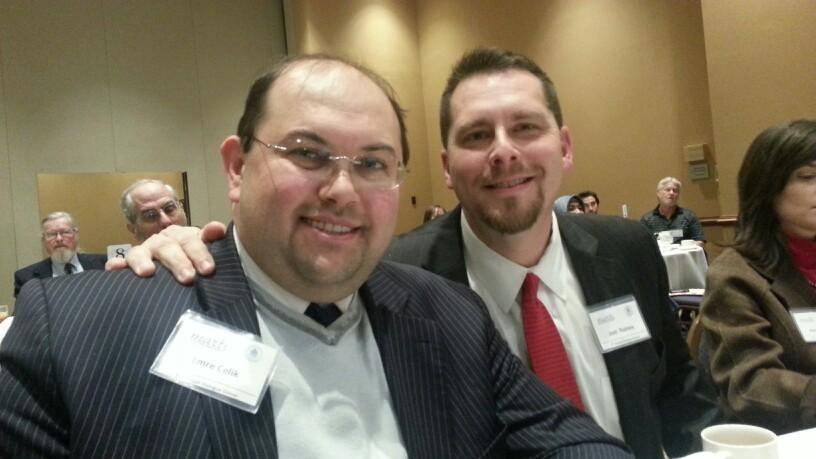 My new friend Emre Celik,, President of the Rumi Forum in Washington, D.C.
Last night, I was given the honor of addressing the 5th annual Dialogue Dinner sponsored by the Maryland Turkish American Inhabitants. This annual event is attended by people from a multiplicity of faiths and background in Maryland, so the room was filled with business leaders, academics, politicians, and others who have worked closely with this organization over the years. My relationship with these dear people began a little over a year ago, as an attempt by both sides for Christians and Muslims in central Maryland to understand more about each other.
Since our initial meeting, a group of pastors from our network of churches was invited to their country, and we toured the Republic of Turkey together for nine days. I've written more about that trip
here
, and was asked last night to speak to a diverse audience about our experiences there.
So there I was, a follower of Jesus, an evangelical preacher of the Gospel, and a regional leader of local and global missions, standing in front of a room full of mainline Protestants, Muslims, secularists, state political leaders, and other public servants. What on earth do you say in a context like that?
I didn't have all the answers, and I still don't. However, I'm happy that the evening went very, very well. I was afforded the opportunity in this environment to share my faith, as well as talk about how adherents to various faiths and no faith can live together in the same nation. This is the essence of religious freedom, and the perfect environment to ensure that conversion, if it happens, is genuine and no coerced. I was delighted afterwards at the positive reaction of our Muslim friends, but even more so, I was encouraged by fellow pastors who confirmed my accurate representation what our churches believe.
I continue to learn much through this continuing conversation, and I'm grateful to my Muslim friends for giving me the opportunity to stretch myself. I'm still an evangelical follower of Jesus who would like nothing more than to see the whole world recognize Him as God very God, King of Kings and Lord of Lords. But even as I share my faith, I do it realizing that these folks are not my "projects." They are, and are still becoming very dear friends.
As we continue to walk together, three dominant principles have emerged that I think have helped our conversation.
1. Don't compromise your faith. For one thing, if we all did that, the whole "peace through understanding and dialogue" movement would be a moot point. The fact is that we have some very, very deep differences; differences in which eternity hangs in the balance. But what I've found in this experience is that our Muslim friends have much more respect for you if you are simply honest about what you believe. Just be sure when that truth comes out that it is accompanied by the "gentleness and respect" 1 Peter 3:15 demands.
2. Seek to understand the real distinctions. Don't argue over the fake ones. I spoke last night toward our national propensity to see Islam as an inherently violent faith, and how that propensity creates a dangerous myopia that can actually stoke more violence. Let there be no mistake; our differences center around the person and identity of Jesus, not terrorism. Paul tells us in 1 Corinthians 13 that genuine love assumes the best (see verse 7), which means that when we begin a conversation automatically assuming our Muslim friend is exactly what FOX News says he/she is, we never really get to know that person. When it comes to people of other faiths, spend time with them. Live life with them. Assume you don't understand where they are coming from, ask them questions, and LISTEN.
3. Commit to a friendship that is unconditional.
I love the way my friend
Bob Robert
s expresses this sentiment when he says "don't serve to covert, but serve because you have been converted." I have family members who do not know Jesus, yet I continue to take their phone calls, visit them at the holidays, and love them because of who they are. Likewise, those who follow other faiths are very much a part of our larger human "family." No, they are not "brothers and sisters in Christ," but we are nonetheless tied together by our common humanity. They are created in God's own image and likeness, and we should love them unconditionally. That kind of love and acceptance is the ideal atmosphere in which genuine friendships can be developed, and our faith can be shared.
I'm still far from having all the answers on this issue, as the speech transcript below will no doubt reveal. But my hope is that the wider body of Christ can produce more models for reaching out to our neighbors in other faiths, and that in the process we can learn to honor Jesus, and each other.
Speech to the Maryland Turkish American Inhabitants
"Peace through Education and Dialogue"
Thursday, November 29, 2012, Pikesville Hilton Hotel, Baltimore
It is truly a pleasure to be standing in front of you tonight, and to share some recent experiences that our group of pastors had in the Republic of Turkey with our new friends. And tonight, I think it is very important that I be clear how much I mean that.
An interfaith dinner is a strange place to find an Evangelical Christian. For anyone in the room who follows professional football, it's a little like finding a Pittsburgh Steelers fan at M&T Bank Stadium wearing purple, but I am brave enough to stand in this room tonight and admit to you, both that I am, and I have. So I am very accustomed to being in places you wouldn't expect me to be. I trust that this admission won't result in my being tarred and feathered after this event. After all, your team has already done enough damage to mine this season.
But I do stand here as an evangelical Christian, who leads a network of more than 60 evangelical churches, and typically, we just aren't the sort to be found at events like this. And I think my presence speaks well of our Turkish friends, and their high capacity for developing unlikely relationships. They have modeled for me what it means for two people of very different faiths to walk together, and I am very grateful to them for their example, and for their friendship.
It was through our new friends that I first heard the name Fetullah Gulen. The trip I and our pastors took two months ago was largely for the purpose of seeing with our own eyes how Mr. Gulen's influence is shaping not only Turkey, but the wider Muslim world for the better, and so my curiosity was raised even more about this man. Who is he? And why would he want those who follow his example to reach out to people like me?
I spent a good deal of time reading Gulen's writings, and I was particularly interested in his theology. After all, I am a pastor and those tend to be the circles in which I walk. And what I discovered is that from the perspective of belief, Fetullah Gulen is very much an "old school" Sunni Muslim preacher. Many of his writings aggressively defend the Koran as the written Word of God. I discovered a man who is serious about his own faith, and who believes deeply and profoundly in the following words from the Koran; "Say he is Allah, the one and only. Allah, the eternal, absolute. He begets not, nor is He begotten." [Surah 112] And initially, I found it strange that a man who believes such things would want to reach out to me. I serve a network of churches that believes God not only had a Son, but that the ultimate way in which He has demonstrated His love for the world—including everyone in this room--is by giving that Son to die and bear the wrath of God as our substitute so that we can be redeemed. But as I continued to research Mr. Gulen, I discovered a man who is anxious to reach out to people of other faiths, regardless of significant differences, and I have gained a profound respect for his ability to balance strong conviction with a desire to promote peace among all people.
I love this quote from his book Toward a Global Civilization of Love and Tolerance, "With the blessings and beneficence of God, we are going to do our best to help this breeze of tolerance and dialogue to continue blowing." Among those who have answered Gulen's call to this vision are those who host us tonight, and they are people who I am honored to call friends.
These friends recently hosted a group of our pastors for a nine day visit to Turkey, and because of their hospitality, we were able to witness first-hand the good that is being done by our friends in this part of the world. We saw things transpiring in that part of the world that I honestly have never read about in the Baltimore Sun, or seen on CNN. I understand that it takes bad news to sell papers and increase Nielsen ratings, but the good things we witnessed there stand in great contrast to how most Americans perceive the so-called "Muslim world."
Among the great things we saw were Gulen-inspired institutions of higher learning. In Konya, home of the 13th century philosopher Rumi, we visited Mevlana University, where students from all over the world come to study education, law, medicine, engineering and business. In Sanliurfa, less than 30 miles from the violence that has recently occurred across the Syrian border, our pastors and I spent the day in a place where Turkish, Arabs, Kurdish, Jews and Christians have lived in peace for 1000 years. One young pharmacist who lives there and is part of this movement told me "I want to take what we have done in this city, and spread peace across the border and throughout this part of the world. I want my city to be the starting gate for peace!" I love his heart, and I'm hopeful for a world where that heart is shared by all of us.
It was Istanbul where our pastors were introduced to an organization called Kimse Yok Mu, a non-profit disaster relief organization that since its inception in 2002 has brought help and relief to more than 60 countries. We were also introduced to the good people at the Journalists and Writers Foundation, an organization that provides six very distinct platforms for dialogue and the promotion of peace among adherents to the world's religions.
One of the most impressive things we learned about was their food. I'm more than just an evangelical Christian, I'm also a Baptist, and we Baptists place a high value on food! And theirs was amazing! I have never tasted better lamb, and ever since returning to the states I've been on a seemingly hopeless search for mirash, which is a form of ice cream that has left me completely dissatisfied with what my local grocery store offers. And of course, there is the baklava, which makes me believe our Turkish friends have stumbled onto the recipe for the manna that God provided Moses and his followers in the Egyptian wilderness. It was exquisite!
Of course, the real benefit of a meal is the opportunity to get to know those with whom you are dining. My primary role in my work is to be a mobilizer of churches for intercultural work here in the Baltimore-Washington region, and around the world. This means that I've had the opportunity to be in the company of people from almost every nation and tribe. But I can tell you that when it comes to hospitality and graciousness, my Turkish friends cannot be matched! By hosting us in their home country, they have given us an incredible gift, and an experience that I think has changed all of us for the better. As I reflect on what we have learned from each other thus far, there are some lessons that my friends taught me on this trip that I want to share with you tonight.
The first lesson is this; the movement we witnessed in Turkey, while appearing on the surface to be a "young man's movement," actually embodies the power of cross-generational effort. Many young people have responded to Fetullah Gulen's call to service, but while in Turkey we also observed older generations responding to that young passion for world-change with financial support, and other resources necessary to accomplish their goals. It was not uncommon for us to see this kind of cooperation carried out by three or four generations of Turkish people, all of whom were committed to these goals of peace and prosperity for their nation.
Second, these are people who speak quickly, boldly, and loudly to the violent elements of their faith, and in doing so, they teach all of us to speak against the violent tendencies within our own spheres of influence. Our group landed in Istanbul less than a week after the attacks on the U.S. Embassy in Benghazi, and our friends were quick to condemn the violence. And as we have discussed this and other issues, I have discovered that our friends genuinely abhor violence committed in the name of their faith. It is their strong opposition to these elements that has challenged this Christian to examine my own responses to violence that is sometimes committed in the name of Jesus.
When most of what we see of Islam in the media consists of images like masked men shooting a young girl for no more than simply wanting an education, the temptation is to see such violence as inherent in Islam itself. But when we look at a picture like that and simply conclude "That is Islam," we are too quickly forgetting that extremists of every sort and kind often appeal to their faith of origin as a source of authority. I am a native southerner, and have examples of such violence in my own family tree: individuals who also intimidated minorities and the weak, and did so while hiding behind a white mask, and with a burning cross in the background. As a follower of Jesus, I'm thankful that no one pointed at that picture and said "There is Christianity!" And I'm grateful to be in agreement with Muslim friends who believe with me that neither of our religions should be defined by the cowards among us who would commit such atrocity, nor should we tolerate those within our own ranks who seek to do harm to others created in God's own image and likeness.
Third, the dialogue they advocate is the very kind of "public square" discourse that makes for a healthy society. As Americans, we rightly resist what Evangelical social critic Os Guinness calls a "sacred square," wherein our social standards and body of law are based on one specific religion. In a pluralistic and democratic society, the sacred square is impossible to maintain peacefully. But while we are wise to resist "theocracy" as more progressive pundits have called it, neither can we have what Guinness calls a "naked square." Somehow, many of us in the U.S. have developed the idea that religious conviction isn't just personal, but private, and therefore should not be an appropriate subject of national discussion. The problem with that assumption is that faith touches the deepest and most meaningful part of who we are as human beings. From a personal perspective, my relationship with Jesus Christ isn't limited to what I do on Sunday. It defines the totality of who I am, so if I can't talk to you about my faith, you can't really get to know me. Similarly, if a person sincere in any faith isn't allowed to share that faith because of perceived cultural taboo, we never get to truly know and understand each other.
While abroad, I experienced people who are quick to speak of their faith in God, who are willing to hear about our faith, and wrestle with us through the implications of our differences in a way that is respectful of each other. This is the kind of atmosphere that illustrates well what Christian social observers call a "civil public square," and in an ironic way, I was delighted to find its full expression in a nation whose predominant religious affiliation is Islam. If done with respect for the image of God stamped on all of us, talking about our differences, and even urging each other to consider the truth of our respective faiths out of concern for each other can build a strong, healthy relationship of the sort we need so badly in our own country. After our visit, I'm convinced that our Turkish friends are highly qualified by their own experience to teach us how to have precisely this kind of conversation.
Our group learned much while abroad with our new friends, and we look forward to learning even more as we continue to walk together. We look forward to engaging with them in matters of common interest, and to building the sort of genuine friendship that demonstrates our common humanity in powerful ways. If invited by these precious people to visit their country with them, I urge you to accept the invitation. Clear your calendar and go! And when you do, be prepared for the world to open to you in ways you may not have thought possible. I'd like to thank my friends at MARTI for allowing me to share our experiences, and thanks to all of you for being here tonight.